It's OK if polka pushers are slightly quirky; it's cool

Dec. 9, 2003
(From the Dec. 10, 2003 editions of the Milwaukee Journal Sentinel )
Crocker Stephenson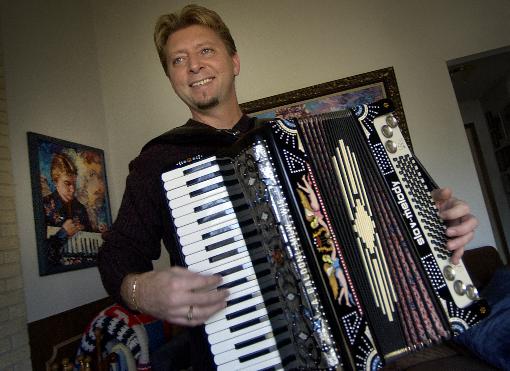 Photo/Jeffrey Phelps
At his home in Whitewater, Steve Meisner plays one of his accordions, made in the 1970s.
Frankie Yankovic was in town six or seven years ago, and we agreed to have lunch. I knocked on the door to his hotel room, and Yankovic, the polka king himself, opened it, wearing nothing but a pair of skin-tight polyester shorts.
He might also have been wearing white support hose, but what I remember are those shorts, which were yellow - or maybe lime green - and covered him from just above his knees to just above his belly button. He was deeply tanned, and his chest was a carpet of white hair.
"Where we're going," he said, "am I going to need a shirt?"
Maybe he was kidding. To this day, I'm not sure. But what I am sure of is this: He was Frankie Yankovic, and Frankie Yankovic didn't require my approval. He was the crowned king of the polka, and I could take him or leave him.
Meeting Yankovic altered my opinion of polka music.
Before meeting Yankovic, I didn't much care for polka music, which I thought was almost painfully square. My post-Yankovic opinion was: I don't much care for polka music, but it's kind of cool - in the way old people are cool who walk around the mall in startlingly mismatched clothes and don't care a rat's patootie what anyone else thinks.
Anyway, I drove to Whitewater the other day to meet Steve Meisner, a star on the polka scene whose new CD, "Forever Christmas," will be released next week and distributed by Meisner Mansion Music.
I knocked on his door, and Meisner, who is young enough to be Yankovic's grandson, opened it, wearing a black V-necked sweater, faded jeans and a soft pair of moccasins.
Meisner is a handsome man. He's got blue eyes, nice-but-not-fussy blond hair, and a soul patch between his lower lip and his narrow goatee.
He is, in other words, a man packaged for mass consumption.
Meisner is an interim board member of the Polka Alliance, a recently formed group of musicians who are attempting to deepen polka's acceptance by critics and consumers of mainstream music.
This is his mission, and he's serious. He's tired of polka music being treated as some kind of sonic punch line. He's tired of the stereotypical profiles of polka musicians and their fans that have so often appeared in the media: beer-chugging, shiny-shirted, schlock-loving goofs.
And he's tired of polka music being dismissed as "ethnic."
"Polka music is All-American music," he said. "It is 100 percent U.S.A. American music."
I can't help but feel a little squeamish when I hear someone dismiss ethnicity and tout All-Americanism as if one has nothing to do with the other, and as I drove back to Milwaukee, listening to his Christmas CD, I thought Meisner's approach to winning a broader audience was wrong-headed.
It's not more of the same that we need. We need more bare-chested Yankovics running around. Our strength is in our differences.
I'm no expert, but Meisner's Christmas CD sounded fine, and by "fine" I mean it sounded like quirky, polka-style music, and because it didn't sound like anything else I had sitting next to my stereo, I was glad to bring it home.