Below are comments from Steve's new CD "Forever Christmas"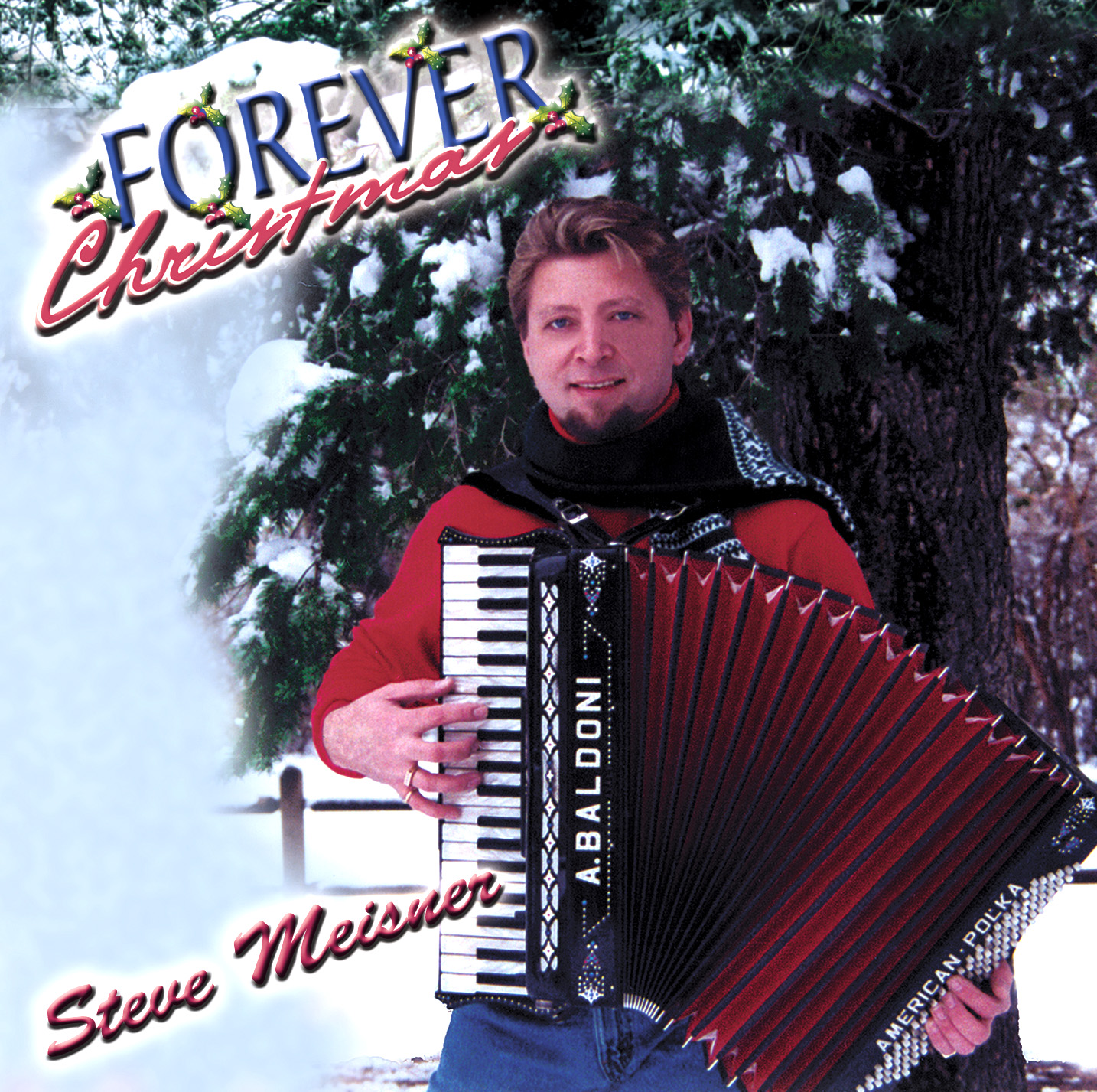 Ladies & Gentleman,
I am very proud to announce the release of "Forever Christmas". In my life time I have been blessed with many gifts and opportunities for which I am grateful. Among them is my good fortune of being raised in an extremely talented and musical family. To me, music is one of this world's greatest gifts (and with the exception of my loved ones) it is my life energy. This recording is not only a gift of music for you, but a gift for me of sharing in the wonderment of creating music with family and friends. I have been afforded the opportunity to take my creations and holiday classics and turn them into a gift of a variety of Holiday spirited and seasonal selections in such a way that I can communicate what "Forever Christmas" means to me.
"Forever Christmas" started five years ago and during that time this project had many ups and downs. The title came to me as a humorous way to deal with the fact that it was taking forever to get this recording finished. However, as the recording began to take shape, I realized that through the selfless cooperation of family and friends, the true meaning of Forever Christmas was right here in my life "at this moment", evident by everyone's selfless acts to participate and see this recording come to its final form - my vision of what a good holiday recording should be. This is a testament to the fact that although Christmas only comes "but once a year", our acts of love, kindness, and sharing are "Forever Christmas". I sincerely hope that "Forever Christmas" inspires a little love, kindness, and sharing in your Holidays and everyday.
Steve Meisner
Comments from Steve's Fans

Dear Steve:
Glad you sent an Email.
You asked me to send you something about what I thought about your "Forever Christmas" CD..
For anyone who is interested--especially DJ`s, such as myself, this is a must own CD!
The songs on this wonderful CD are so appropriate for not only the Christmas season,but to play thru out the Winter--because of the selection of songs that pertain to the Winter season .If ever there was an award for the best Christmas CD--this wonderful Forever Christmas CD would be # 1!!
I had a listener call me and say "How come your`re playing Christmas songs in Feb?" I said-"If you listen carefully you will hear no mention of Christmas in the song." Let it Snow?--Home Fires?--(You sound like Michael Buble' .")Tundra Serenade--When Angels Dance,--Just a beautiful mix of instruments into a blend of this wonderful song makes you imagine Angels floating around us. Shufflin`I/n a Winter Wonderland--Great Swing number with that syncopated beat!.Who can stay seated with this one.--Snowflake Flight? Fast fingers of Stevie Meisner--A Waltz in the Winter,-- Perfect Waltz for Lovers--Marshmallow World--Just great!!!!
I tell you Steve-no has ever put together an album of Winter songs that could be played, not only during the holidays but after the holidays as well..
Thank you so much for this great CD....
I would like to purchase another Forever Christmas--Just let me know the cost and I will send a check..
Why not make a "`40`s CD? There were some really great songs in that era..They never seem to go out of style.
Keep up the good work..
Regards from the great Northeast where you can listen to Minnie Polka on Mondays, radio station WAPJ -89.9 and 105.1 FM from 12:00 --2:00 P.M. Right in the center of Torrington, Conn. Polka capitol of Litchfield County.... If you are ever in the area by all means stop in and say HI--
For now ---Bye..
MaryAnn Florio

I received your Christmas CD and it is absolutely wonderful! You and everyone involved did a great job. I love the arrangements.... the playing is supurb. Even "Cousin Gary" played great, (just kidding, Gary always plays great accordion and piano). Your playing and your singing knocked me out Steve... you are very talented. To call this a polka band is "way too confining". This is just great music, congratulations!
Best regards,
Kenny Kotwitz (world famous jazz accordionist and composer)

I'm finally getting around to giving you a big THANK YOU for sending Forever Christmas to me for my radio show. It's absolutely great! So well orchestrated and ultra professional. But then, that's the trademark of Steve Meisner, and no one would expect anything less from you. Steve you can never die.....you must keep playing forever. There are countless fans who love you, and love your music. As you said in the monologue on your CD, you truly have been blessed. What's so admirable is that you know just what to do, and how to make that blessing an asset in your life and the lives of others.
Polkatively,
Dick Zavodny, Loveland, CO

Just received your Forever Christmas CD as a birthday gift and feel compelled to say THANK YOU for making it. It really struck a cord within me and I'm really looking forward to playing all throughout the season next year.
I've been playing it for weeks and I don't think my husband cares to hear it anymore this year.
Sincerely, Anne Lucey

Just received your new CD and LOVE it. Your vocals are great and the instrumentals pieces are just fantastic. I like all the songs allot but especially Snowflake Flight. Also, it's a CD I will play all the time ... not just at Christmas time. Also, liked your jacket giving credit to your dear wife and children and family. It made me cry as I could feel your warmth and love for them all. You are a great guy!
Happy holidays to you and yours.
Gerry Sickler

Just wanted to let you know that I received your new CD Christmas Forever last week. I love it. It certainly was worth the time and the effort. It probably will be my favorite Christmas CD. Hope to be able to hear you soon again in person. Wish you played more around our area. Have a Blessed Christmas and Very Happy New Year.
Best wishes,
Marcia

HOLY COW MAN!!! WHAT TALENT! Thanks for the new Christmas CD, AWESOME as usual! You and the band, and family kick ass on this one, just like all of your CD's. I really enjoy the stuff Steve, and appreciate your musicianship and our friendship! Keep up the good work my friend, and hope you and the family have a Happy and Safe Holiday Season!!!
Gary W. Brueggen
"Wisconsin's Concertina Kid"

You must have read my mind!
I had just seen you ad in The Polka News paper and had decided to write you a note requesting a copy of your new CD. On that same day the mailman delivered your package!
This is a wonderful Christmas recording. A superb mix of musical selections, finely arranged and performed. Professional all the way!
Favorites include; Santa Claus' Party, Snowflake Flight, Tundra Serenade, Ring Those Christmas Bells and A Waltz in the Winter.
Again, thanks for the wonderful Christmas recording. With songs like Snowflake Flight and A Waltz in the Winter, we'll be playing this CD well into the winter months.
Have a wonderful New Year.
Sincerely,
Mitch Moskal
Early Bird Polka Show
WMUA Radio, Amhurst, MA

Received your Christmas CD yesterday, just in time! So, last night, I fixed myself a large martini (gin, straight up, 2 olives), took my spot in the comfy chair next to the stereo, and put the headphones on. And I had quite an enjoyable experience!
After listening to the whole recording, the word that keeps coming to mind is "musical". I thought that the attention to arrangements and variety was excellent. Also, I was really diggin' all your accordion parts (because of the arrangements? the non-polka aspects? I don't know). Very Art Van Damme-ish at many points, and I LOVED that. So it's probably no surprise that my absolute favourite is Snowflake Flight. Love it, love it, love it.
I also really enjoyed the duos with your cousin Gary. Fantastic piano parts. That piano styling certainly fits your voice well. For me, another standout, particular on your vocal, is Home Fire. Really like that one. Also at the top for me was Tundra Serenade, and When Angels Dance. I've always loved the song "What Are You Doing New Year's Eve" too. A good song for you too!
As you can see, I seem to have picked out all the non-traditional (or non-polka) cuts as my favourites. I think your creativity shines on these. Of the more traditional ones, my fav is probably Ring Those Christmas Bells.
Steve, you can be very proud of this project. Congratulations!
Thanks again! KC

Thank you for your latest Christmas CD. It's truly a wonderful package of Holiday music with an excellent mix of tunes. Your band sounds bright and tight. I especially enjoy the nice reedy sound of the box and I enjoy the hell out of your tenor/stick man. Send him my congrats on a job very well done. At times, with your phrasing and style your voice sounds a lot like Harry Connick. I wonder if anyone told you that yet. Very, very clean recording, professionally done and well thought out. I know someone did their homework but it couldn't be you because you spend all of your time with that darned polka alliance :)
Thanks for the gift Steve. Happy & Healthy 2004 to you and yours.
Cheers brother! Lenny

What a welcome addition to our Christmas music! We played your CD at all our Christmas parties, and then when we were both home alone doing things around the house, there it was playing some more. We gave two away as Christmas presents. There is really something for every age group to enjoy. Oh, Fred and I have our favorites. Fred loves the shuffle beat in Shufflin In a "Winter Wonderland." I love the title song, "Forever Christmas." And then the grandkids liked, "Caroling on Christmas Eve." I also liked "Tundra Serenade," "What a Merry Christmas This Could Be," and the great waltz tune, "A Waltz in the Winter." Yes, it was worth the wait! The whole five years. I remember being at Baldoni and asking what ever happened to the Christmas CD. The Meisner's all did a great job on the CD. Each generation.
We hope 2004 will be a healthy and happy year for all of you. Keep moving up that ladder. You have the talent.
Fred and Mary Ann Buechner

I just wanted to let you know that I received the CD Forever Christmas. My favorite cuts on this CD include Caroling on Christmas Eve, Santa Claus is Coming to Town, Santa Claus' Party, Ring Those Christmas Bells, and Merry Christmas Polka. Excellent!
Have a Happy New Year,
John Lucas, DJ
WUSR Radio, Scranton, PA

I have just previewed "Forever Christmas" and I am very impressed by the variety it contains. My sincere congratulations go out to everyone who had any part in the production of this recording.
I like the format used on this CD. There's no doubt in my mind that the music chosen for this recording will attract the younger generation as well as the more seasoned listener's. This recording is filled with music that is pleasant to listen to and definitely still contains the true "Meisner" style.
Looking forward to future releases and hoping that our friendship will continue in the years ahead.
I remain Polkatively yours,
Gil Yurus Polka Review,
WWCS Radio Canonsburg, PA

Firstly...CONGRATULATIONS on an awesome Christmas CD. You have an incredible talent!!! You've taken pieces of tradition and turned them into ":Masterpieces"! I am most impressed. I think your vocals are excellent. There are many many good players... who can't sing... but try! You have the ability to handle both. All I can say is, "this CD knocks me out"! This will be added to all my Holiday programming for years to come. I'll premiere it NEW YEARS EVE!
Impressive.
Happy New Year
Willy Cole
Program Manager/Morning Host
620 CKRM
Regina, Sk., Canada

You are to polka what Brett Favre is to football. Talented beyond words, highly dedicated and plays with deep passion. Allen and I heard you on WTKM on the 17th. The next day Al went to the station to purchase the newly released CD. I have been playing it non-stop ever since. Each time I hear something new.
The musicianship by all is incredible. The words to your music are most meaningful. Your voice both incredible and meaningful.
For someone who enjoys dancing to the degree that I do - everything is so danceable. I roll up the scatter rugs and away I go. I made Allen sway with me to "What A Merry Christmas This Could Be."
"When Angels Dance" makes me want to cry, it is so reverent. I picture the angels as they witness the birth of the Savior and patiently wait until they can shout the news to the shepherds.
"Snowflake Flight" makes me laugh as I picture this snowflake flitting and floating to the ground - wanting to reach its destination - but not really in any hurry.
Hearing Verne and his grandchildren tugs at the heart.
Having Jerry Krahn (Gloria's brother) play a part - having a connection - is always memorable.
Do you do all the bouncing bass? (Answer) With the exception of "When Angels Dance" I am playing all of the bass parts.
Receiving your Christmas card yesterday was quite a sentimental surprise. We love you and all of your family. This long awaited Christmas CD is truly your gift to all who love and appreciate the "Meisner Magic".
Thank You,
Gloria Christian

I recently purchased your "Forever Christmas" album and I am delighted with its content. It is a great mix of original compositions and old favorites with refreshing arrangements. Your versatility is rare and your style seems to have been influenced by the great Art Van Damme.
Thank you for finally completing the "Forever Christmas" album. It was a production well worth waiting for.
Congratulations and best wishes for continued success.
Ed Marakovits

Just got your new CD........Great!! Tell your Pop I had a tear in my eye the first 12 times I played #4.
Bob & Mary Ann Kowalewski

Well "big guy", the holidays are almost here, and Marcie and I want to wish you and your family a blessed Christmas and a happy and healthy new year. I received the Christmas CD a few days ago, and we both really enjoy what you have created. It certainly is a credit to you and all of the artists involved.
I am sure it will be well received by all who hear it. It does a fine job of hi- lighting all of your talent Steve. I know that Barb and everyone in your family must certainly be proud of you. I know that we sure are. We had hoped to see you guys in Utica on your way home from Cleveland, but it just didn't work out. I really hated to miss you when you were that close to the Flint area.
Well Steve, I am going to close for now, and once again, have a great holiday season. . . .
Eric Wohleben

Your new release is simply BEAUTIFUL. It has everything. Traditional, Jazz, Polka, Waltz... The workmanship and creativity you put into your projects are second to none. I must tell you. The first time we listened to Forever Christmas (about 5 seconds after opening ) I was sitting on the couch and I had tears in my eyes.
We can't THANK YOU enough for your music and your incredible talent that you share with everyone. We are all so fortunate.

Gary Kunkel (The Sound Connection, Houston, TX)

You don't know how much I'm "enjoying"!! Crying/laughing <What a Merry Christmas This Could Be/Snowflake Flight>
For many Christmases I enjoying playing Caroling on Christmas Eve as close to your Dad's version as possible. Sounded pretty good with 2 female voices and was something *different*...my audience always enjoyed it. This CD is far better than my expectations were (and they were high). So much VARIETY, lovely new tunes, favorite old ones...Your voice continues to mature and you sound like an "undiscovered" BIG-TIME star! Who is Michael Buble`? Compared to you...he can't hold a candle. How nice to hear you sing with just a great piano behind you...
It's going to be MANY years before I ever get tired of listening to this CD...maybe CHRISTMASes FOREVER!
Just a GREAT, great CD...I can hear that you put a LOT of work and talent into it. We listeners are lucky to have someone who cares so much produce something like this...
Karen Anderson

We received the "Forever Christmas" CD yesterday and it is fantastic!! Even though it took five years it was well-worth the wait. We'll probably wear it out playing it on the way to Florida.
Happy Holidays
Love,
Lois and Gary Gustaveson