Fishing with the Boys

Catch of the day; on 7-24-07 Bob & Irene Bonnert took Austin & I fishing on Lake Michigan. Captain Bob is holding a Coho Salmon, Austin has a Rainbow Trout & a Chinook Salmon, and I have a Coho and the 15 pound Chinook. Bob smoked the Salmon for us and we grilled the Trout that night for dinner which was enough to feed eight.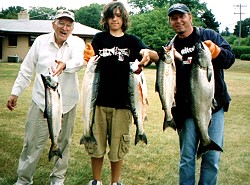 The following pics are from our fishing trip on the Mississippi. I have also included our guide Jarrad's website link.
I took Guitar & Banjo player Jerry Beiniek and his son, Benjamin with Austin & I to the Mississippi for a little fishing trip. Thanks to our fishing guides Jarrad and Dillon our keepers this year were a 28" 8 lbs. Walleye and a 24" Northern Pike which I caught. Austin wrestled in a 24" Sheephead this year and on last years trip he caught an 18" Small Mouth Bass now mounted. Ben caught a 16" Small Mouth Bass, and Jerry caught many Walleye's which he personally filleted to feed the starving group while giving lessons to the boys.

I think the T-shirt I'm wearing in says it all!
Jarrad Fluekiger
EFN Pro Staff
River Guiding Services
www.riverguiding.com
608-685-4244
---
Gotta Love these ole' cars


I have a new addition to my collection. This is a 1958 Lincoln Mark III. It comes from Montana where it has been since 1964. It originally came from Wisconsin and has a 1964 WI Parks sticker on the windshield. It has finally come home! It has a retractable rear window, separate heater and air conditioning for the driver and passenger compartments, direct drive differential, remote control floor button for the radio, plus oodles of other goodies. It's powered by a 375 horse 430 V8 and weighs a mere 5,200 pounds on a 131 inch unit-body chassi. Believe it or not!



This is a 1936 Nash LaFayette Deluxe. It was my first classic restoration
and is currently on display in Hartford, WI at the Hartford Heritage Auto
Museum. I purchased it from Ivo Baldoni who contributed much to it's
restoration before selling it. More pictures and Nash information is
available at "http://www.nashcarclub.org".


The 1940 Nash Ambassador Eight was owned by my Grandfather Henry Meisner.
The little boy standing next to him is my Dad, Verne, at about 10 years
old. The wheel trim rings on this car in this photo are now on my 1936 Nash
LaFayette thanks to Uncle Hank, Jr. who took them off of the 40 Ambassador
before it was traded in on a 41. Jr. gave them to me about 10 years ago and
they are the only heirloom I have from my Grandfather.


This is a 1966 Cadillac DeVille convertible and one of my favorites. My Mom
and Dad were originally the 2nd owners of this car. I took my drivers
license test in this car, but lost the car to my best friend's Dad, Len Millard,
when my Mom decided she needed a new car. I followed the car around for
about 15 years before becoming the 5th and final owner of this beauty.




1973 Pontiac Granville convertible. I picked this one up when my wife Barb
said she wanted a red convertible. This was the only convertible Pontiac
made in 1973 and has the smooth 455 big block in it. This car does not feel
comfortable unless it is going 70 mph.



1978 Lincoln Continental Mark V. I am the 3rd owner of this classic and
purchased it from musician and friend Jimmy Monsen. This car is the paragon
of the luxury cars of the 70's and one of the longest. There is no driving
experience that compares to sitting behind the wheel of this car and looking
out over the hood trying to find the end of it.

This 1980 Cadillac Coupe DeVille was traded for an Anniversary party for
Diane & Bob Glowinski. The car was owned by Diane's father Harold
Gilbertson who was a big fan of mine before he passed away. I always told
him while he was alive that I wanted to buy the car from him when he was done
with it, so Diane thought it was only fitting to pass it on to me. In fact,
Harold let me borrow this sled to carry my bride, Barb and myself, from our
wedding in May of 1985 at the church in Whitewater to the reception in
Waukesha, WI. This is the last of the cast iron blocks in Cadillac and the
first year of the new body style that carried Cadillac through that decade.




This 1985 Cadillac Fleetwood Brougham was purchased from friends Harold &
Bev Konkel from Milwaukee. I was fortunate to pick it up shortly after Harold
bought a new Cadillac. I'm hoping to get that one next. I would not say that I am a Cadillac man, although it would seem that way. I do truly enjoy big cars.