The Latest Meisner News
---
STEVE NOMINATED FOR WISCONSIN AREA MUSIC INDUSTRY AWARD - WAMI
March 11, 2013
The Wisconsin Area Music Industry (WAMI) awards have been presented to the best Wisconsin musicians in a variety of categories for over 30 years. The WAMI is a volunteer organization whose purpose is to educate and recognize the achievements and accomplishments of individuals in the Wisconsin music industry. The group also utilizes its funds to provide a Youth Music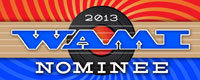 Showcase and provide scholarships to students and emerging artists. Steve has been nominated in several categories over many previous years and has won in the polka category several times. The WAMI committee recently released the nominees for 2013 and once again Steve Meisner has been nominated in the polka category. The awards show will be held at Turner Hall in Milwaukee on April 14th. Information about the WAMI as well as tickets for the awards show are available directly from their website. Steve is both pleased and proud to once again be nominated for a WAMI at their 33rd awards show.
---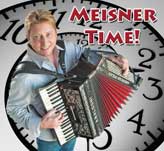 MEISNER TIME CD RELEASED AT RELEASE PARTY
February 10, 2013
The wait is over! At long last the new and long-awaited Meisner Time CD has arrived to the Meisner Mansion nearly two years to the day after it was started. The original recording session took place on January 24 and 25, 2011 and the shipment of CDs arrived on January 25, 2013. To help celebrate, Steve and the band hosted a CD release party on Saturday, February 9th at Rick's Eastside Pub in Whitewater, Wisconsin. Fans were able to hear the actual recording band perform all of the songs on the CD, plus many other favorites as well as pick up a copy of the brand new Meisner Time CD together with their free Meisner Time T-Shirt, given away only at the CD release party. It was a packed house taking advantage of hearing a rare five and sometimes six-piece band live on stage. If you missed it, Meisner Time CDs along with some pre-view samples are now available on-line from the Merchandise page. Hear portions of six songs from the new CD then order yours right now! Click on the image to the right to see the new Meisner Time CD cover, or click here to see the back side of the CD package, including song titles and CD information. COVER BACK
---
GREAT PHOTOS FROM THE HEATWAVE POLKAFEST
January 23, 2013
Steve, Don Hunjadi and Tom Brusky were recently captured on stage by photographer, Dick Blau, as they performed for the Heatwave Polka Fest at the Amerahn Ballroom in Kewauskum. When the band arrived early Saturday evening, it was something of a Heatwave for January in Wisconsin with temperatures nearing 50 degrees. By the time the performance had ended only a few hours later, it was anything but tropical as a blizzard of sorts had moved in dropping temperatures into the single digits and blasting wind gusts over 40 miles per hour! At least the music inside was still hot, hot, hot with Steve and the band. See some great photos right here and don't forget about all of the other recent photo adds available from the PHOTOS page.
---
STEVE INDUCTED INTO CLEVELAND STYLE POLKA HALL OF FAME
November 26, 2012
It was a big weekend for Steve as he became both the youngest inductee and the first father-son inductee into the Cleveland Style Polka Hall of Fame. Steve and the band performed at the Thanksgiving polka festival during all three days of the event as well as appearing in the 25th anniversary awards show on Saturday. Photos and video from the weekend's events have already started to appear on Facebook and You Tube. Check out some of the photos and video from the 2012 Cleveland, Thanksgiving weekend events.
---
STEVE FEATURED IN WISCONSIN STATE JOURNAL ARTICLE
October 21, 2012
Steve was recently featured in an article appearing in one of the largest newspapers in Wisconsin. The Wisconsin State Journal, published in Madison, ran a feature on Steve as part of their Sunday, October 21, 2012 edition. On Wisconsin is a feature of the newspaper that looks at interesting topics related to life in Wisconsin. The feature included both information and photos of Steve, covering his now 35 plus year career. See the feature along with previous news coverage of Steve on the NEWS PAGE.
---
STEVE TO BE INDUCTED INTO CLEVELAND POLKA HALL OF FAME
October 15, 2012
Steve Meisner will join his father on Saturday, November 24, 2012 when he is inducted into the National Cleveland-Style Polka Hall of Fame at the annual awards ceremony. Being inducted along with Steve are Father Frank Perkovich of Chisholm, Minnesota and Eddie Vallus of Youngstown, Ohio. All other awards are not announced until the awards ceremony while lifetime achievements are named by the Hall of Fame trustees and pre-announced. The 25th annual National Cleveland-Style Polka Hall of Fame Awards Show takes place at 2:00 p.m., Saturday afternoon, November 24, 2012, at Euclid Auditorium, 711 East 222nd Street, in Euclid, Ohio. This year's program features an all-star salute for the Hall of Fame's silver anniversary, featuring Steve Meisner, Canada's Polka King Walter Ostanek, and Nashville's button-box sweetheart Lynn Marie Hrovat Rink. The Steve Meisner Band will also be performing throughout the weekend at the event as well as taking a bus trip of fans along with them. Steve is extremely honored to receive the news and be inducted as a lifetime achievement award winner. Watch for more information in the November newsletter (sign up on the right if you don't currently receive the newsletter) and here at SteveMeisner.com.
---
TIME TO CLEAN HOUSE
October 4, 2012
The first Steve Meisner web site was created over 15 years ago. Wow, that's a long time! Since then a whole lot of stuff has been put up around here. We've had all sorts of information, photos, videos, band schedules, trip information, accomplishments, performances, more photos, music, and even some information about my familly, friends, and hobbys. With all of that content, we've really created quite an inventory of items - including some that are now pretty out-dated. As you can see, we already have a new look that will hopefully help everyone find what they need, but it's really only temporary. I won't bore you with everything taking place behind the scenes, but we have started to clean house here at Steve Meisner.com and will continue to make changes and clean up over the next few months. Then, sometime in 2013 we'll roll out a completely redesigned website that both current and new Steve Meisner fans will not only enjoy but be able use as a great resource for everything Meisner. Until then, please bear with us as we continue our house cleaning.
---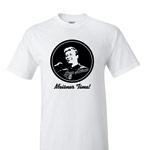 NEW MEISNER TIME T-SHIRTS AVAILABLE
August 10, 2012
In preparation for the highly anticipated Meisner Time recording, brand new Meisner Time T-shirts now available. The new T-shirts were introduced at the 2012 Wisconsin State Fair with many Meisner fans already getting theirs! Meisner fans can order their Meisner Time T-shirt right now from the Merchandise section. While you are there, be sure to check out all of the Meisner recordings available on CD and DVD. Fans can use any major credit card to safely order on-line - right from this website! We'll ship anywhere in the world, and typically have your order on the way to you within a few days! Take some time right now to check out all of the merchandise and make certain that you aren't missing anything from your CD collection - including some of the early Meisner music - all available now on compact disc.
Catch Steve Live!!

May 24
Janesville Moose Lodge - Janesville, WI
May 25
New Glarus Hotel - New Glarus, WI
May 26
Hiawatha Bar - Sturtevant, WI

More Information and Dates