---
NEW RECORDING COMING OUT
January 31 , 2015
Youíve heard Steve say it on stage many times and now, Thank You Music Lovers, is the title of a new CD set to debut at the Illinois Polka Fest the first weekend of February. Get set for 21 classic Meisner polkas and waltzes, all recorded live last summer at the Medina Ballroom in Media, Minnesota. One listen and youíll agree itís almost like having a front seat at a table in front of the stage Ė or like having the band perform live for you in your living room. Youíll also hear Steve Meisner and his band in one of their best live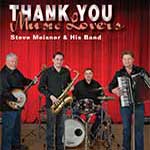 performances ever. You can sense the enthusiasm and hear the guys interacting both with the audience and with each other on stage. Many of the songs included on Thank You Music Lovers are already long-time Meisner favorites. Titles include songs made popular by Steve and also by his dad, Verne Meisner, including Polka 76, Sugar Bush, Memories of Vienna and of course El Rio Drive. Some of Steveís classics like, The Sailor Song, Wildflower Waltz and Meisner Magic are also included. But thereís even more with Denny Anderson yodeling on Edelweiss, Don Hunjadiís Howg Wobber and other great tunes like Abergut and You Donít Wanna. With 21 total songs providing nearly 70 minutes of music, Thank You Music Lovers is not only a great recording, itís a great deal! You can order the new CD right now from the merchandise page or pick one up from Steve on stage.
---
STEVE ADDED TO THE LINEUP AT ILLINOIS POLKAFEST
January 5 , 2015
Steve and the guys have been added to the roster of bands appearing at this year's Illinois Polkafest, February 6-8, 2015 at the Hyatt Regency in Schamburg, Illinois. Along with announcing the addition of the Steve Meisner Band, festival promoter, Bob Doszak, also announced this would be his last year heading the annual event that is about to hit it's 27th year. Will this be the final Illinois Polkafest? It may unless Bob's children decide to continue the legacy. Don't miss what may be the final event and don't miss some of the best Slovenian-style bands in the country, including the Steve Meisner Band. Get more information including hotel booking details by making a visit to the Illinois Polkafest Facebook page.
---
FREE SHIPPING SALE CONTINUES THROUGH CHRISTMAS
December 2 , 2014
Everyone loves a deal. It's even better when it's free. If you missed it last year, you're in luck because the big, once-a-year sale from Steve Meisner has returned once again. Make any purchase of over $25 and get free shipping on your order from now through Christmas. That is real savings! Give someone the gift of Meisner music this holiday season - even if that someone is you! What could be better? Start shopping right now in our MERCHANDISE SECTION
---
El Rio Drive Named AS AN All-Time Greatest Hit!
November 15 , 2014
Of the many songs Steveís father, Verne Meisner, created over his lifetime, El Rio Drive is arguably the most popular. Created in 1977 and named for the street in Menomonee Falls, Wisconsin, where Verne lived at the time, El Rio Drive became an immediate hit at local performances in and around Milwaukee. That happened even before being recorded one year later for the El Rio Drive album release. Although the songís popularity continued to spread far and wide, few knew that it was Verne Meisner who had created the catchy song. Today, El Rio Drive continues to be performed live as well as recorded by many artists in all styles of music from Dutchmen and Czech to Polish, Slovenian and of course Tex-Mex. When the curtin goes up at this yearís National Cleveland Style Polka Hall of Fame awards show on Saturday, November 29, El Rio Drive will be inducted as one of this yearís All-Time Greatest Hits. Steve very much regrets not being able to attend the awards show and watch as long-time musician friends Eddie Klacnik presents the award and Hank Thunander performs the song. Still, it brings Steve great pride that his dadís creation, El Rio Drive, will be certified as an All-Time Greatest Hit.

---
MOLLIE B TAPING A GREAT SUCCESS
August 8, 2014
It was a great time for Steve and the guys as they traveled to Medina, Minnesota, to take part in the latest taping for the Mollie B Polka Party television show on the RFD cable network. Steve, along with Rick Hartmann, Denny Anderson and Don Hunjadi performed at the Medina Entertainment Center in front of an estimated crowd of 750 in attendance. The band recorded a total of seven seperate show segments that will begin airing in Fall and likely run into next year. A total of 21 songs were completed including many Verne Meisner classics like Polka 76, Autumn Leaves, Sugar Bush, Memories of Vienna, Doreen Waltz, and even El Rio Drive. Also in the lineup were tunes featuring three and four part vocal harmonies from all of the guys, plus the yodeling of Denny Anderson, Don Hunjadi featured on flute, and even Don's popular original, Howg Wobbler polka. Of course several of Steve's original tunes were also part of the lineup with the Sailor Song, Wildflower Waltz, and Meisner Magic topping the list. Be sure to watch for Steve's new segments coming soon to the Mollie B Polka Party Show.
---